Maren Morris And Kelsea Ballerini Enjoy Therapeutic Girls Night Out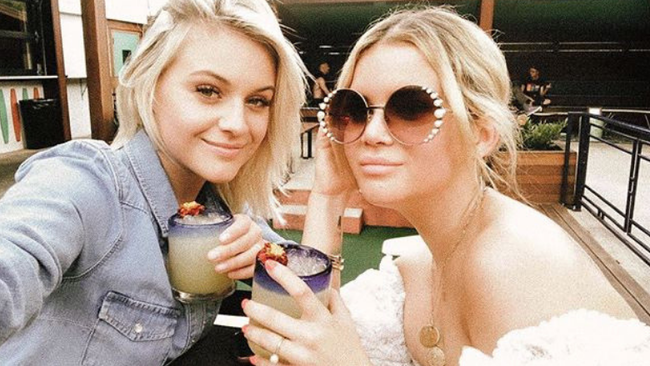 Now, this is my kind of therapy session.
Female country stars Maren Morris and Kelsea Ballerini recently shared an adorable photo showing the two of them enjoying a night out together full of long therapeutic conversations with a drink or two somewhere in the mix.
Morris shared the photo to Instagram captioning it, "quarterly therapy session with @kelseaballerini." The two, along with fellow female country star, Carly Pearce, have been open in the past about their close friendship. Pearce, who's out on the road for Jason Aldean's "Ride All Night Tour" commented on Morris' photo, "Fomoooooo X 10." Although, I'm sure the "Closer To You" singer is absolutely loving life out on the road, I'm sure she was a little bummed to be missing out on this kind of quality time with the girls.
Ballerini later shared the same photo to her Instagram, with a caption that subtlety references the way the music industry seems to pit women against one another. "There's enough to go around," Ballerini expresses.
Recently Morris told CMT, "We all support each other. I think that's how we've been able to prevail through such a drought of female representation at country radio." She continues, "I don't really find it a chore to do that because I grew up listening to amazing women on the radio and I feel like I've always been a girls' girl- I'm still friends with my best friends from high school and junior high."
Further, Morris shares, "There's really something about the female spirit I'm attuned to and want to write for. So, when my friends are doing well and upping the bar, I want to shine a light and put it on them because it's about paying it forward."
Preach, girl! Love to see women in music coming together encouraging and supporting one another on the wild journey.
Morris' new all-female group just dropped their new single, "Redesigning Women" last Friday (July 19). Give the track a listen below.